Forget the usual hotel concept and services!
Forget the usual hotel concept and services!
Enjoy a privileged holiday in Cappadocia, which is home to different civilizations and is not located in any region of the world, with the hotel service that is not available in any region of Turkey. Cappadocia, with its Fairy Chimneys, which is on the world heritage list, stands out with its different architectural structure and cultural tourism value. In Cappadocia, where the historical houses that make up its architectural structure are under protection, Taşkonaklar offers an atmosphere in a fairy-tale atmosphere for those who are bored with modern living spaces and the standard hotel concept, with its boutique style service model, to newlyweds and those who desire to experience a holiday in Cappadocia.
Prepare for a different experience in cave-concept rooms
Get ready to experience a much different and exciting experience than staying in multi-storey hotels! Providing the different accommodation experience and culture of Cappadocia with its completely stone concept, Taşkonaklar offers the naturalness of the old together with the practicality and luxury of modern life. Offering a wonderful honeymoon room model to newly married couples, the business also experiences the different architectural structure of Cappadocia in accommodation services. Offering different rooms with or without a jacuzzi, Taşkonaklar allows everyone to benefit from the room facilities that suit their desire and budget.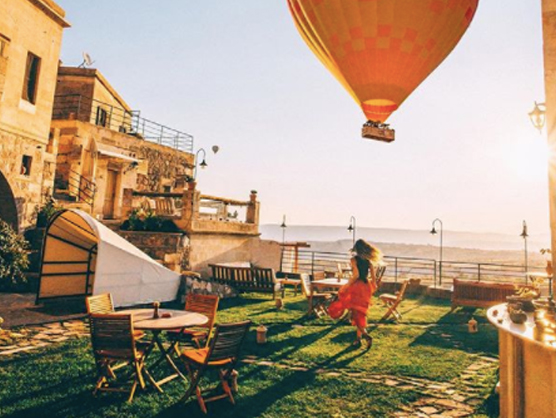 Human and nature friendly structures
With Taşkonaklar, which was built in accordance with human nature, you can get away from the boringness and monotony of city life. Cappadocia's ancient structure, Taşkonaklar's rooms with natural and exotic designs and boutique style service make it possible for you to have an unforgettable holiday. You can also explore different historical places and get to know cultures during your time in Cappadocia. You can have a different experience by participating in the balloon flights that come to mind when Cappadocia is mentioned. You can have a calm, exciting and unique holiday in Cappadocia, which has become the center of different activities such as ATV safari and nature walks.
Taşkonaklar opens the doors of an unforgettable holiday with the unique atmosphere it creates for its guests. Creating a great resting atmosphere with its luxurious and unique room concept, Taşkonaklar meets all the needs of its guests with its friendly staff and active room services. Your place is ready for a unique holiday plan in Cappadocia, the center of civilizations!