One of the most important milestones of your life is undoubtedly your marriage. An unforgettable honeymoon is one of the best ways to celebrate building a happy home with the love of your life. Considering that you will not be able to sit in your place at the wedding with the wedding preparation process, which is exciting, enjoyable and full of hustle and bustle; By the end of the night you will be extremely tired. But the idea of honeymoon will be enough to erase the thought of tiredness from your mind. By choosing a honeymoon hotel that will always be remembered with pleasure, you will forget your tiredness and stress right after the wedding and set sail for happiness.
The Most Beautiful Honeymoon Hotel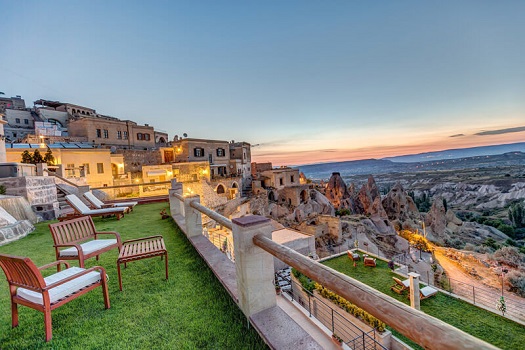 Of course, the first point to consider when choosing a honeymoon hotel will be the location of the honeymoon hotel. You can make your honeymoon unforgettable by choosing a high quality, comfortable and above all romantic Cappadocia honeymoon hotel in a unique place. Fortunately, every corner of Turkey has its own beauty. It is an undeniable fact that Cappadocia is among the most beautiful honeymoon hotels in Turkey. Cappadocia; It is one of the most enjoyable destinations for your unforgettable honeymoon memories.
What to do in Cappadocia?
After making your choice among the Cappadocia honeymoon hotels, exploring Cappadocia will be a tremendous activity. While watching nature without doing anything in Cappadocia gives an incredible pleasure, watching the same nature from the sky by getting on a balloon gives you an invaluable pleasure. Watching the sun rise in a clean sky with your spouse will be the top among the unforgettable moments of your honeymoon.
Getting on a balloon is not the only way to see two magnificent views, such as sunrise or sunset, in Cappadocia. If you have chosen a hotel like Taşkonaklar, the unique nature of Cappadocia gives you the opportunity to experience this pleasure from the balcony and window of your honeymoon hotel. While walking hand in hand with your partner, you can climb a hill and watch the dance of the sun in the sky in a quiet, calm and peaceful way. If you want an even more special activity, Taşkonaklar can arrange a sunrise breakfast or sunset picnic among the valleys of Cappadocia.
If you go on a honeymoon in a place like Cappadocia, every day will be full because the adventure never ends in Cappadocia. You can participate in cultural tours in many historical areas that can be visited during the day, and you can take pleasant walks in different valleys. If you want some excitement and action, you can try ATV tours. You can enjoy the last hours of the day either by riding a horse or by watching the sunset from Kızılçukur or Uçhisar Castle.
For dinner, you can relax in the restaurant of our honeymoon hotel or in other restaurants in the region, while filling your stomach, on the other hand. If you wish, you can also participate in folkloric activities such as whirling dervish show and Turkish night.
Why Cappadocia?
It is impossible to talk about Cappadocia and not to mention Fairy Chimneys. Cappadocia; It contains the most beautiful examples of fairy chimneys in the world within its borders. Millions of domestic and foreign tourists visit Cappadocia and especially Fairy Chimneys every year. Cappadocia's natural environment and its atmosphere away from human influence are the best hosts for special moments where you can relax and spend time alone. Taşkonaklar can offer you the ideal environment where you can discover something new every time you leave your honeymoon hotel in Cappadocia and return to your honeymoon hotel at the end of the day.
Taşkonaklar Cappadocia Honeymoon Hotel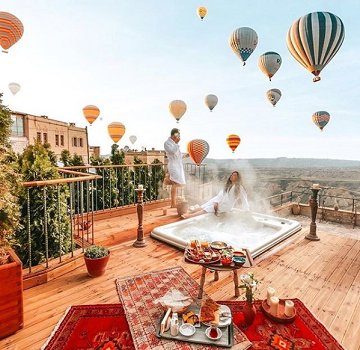 Taşkonaklar will be the best choice for you during your accommodation in Cappadocia. Taşkonaklar; It is located at the most ideal point of Cappadocia in terms of location. Taşkonaklar, which is close to every point within the borders of Cappadocia, offers time advantage for all your activities during the day.
At Taşkonaklar honeymoon hotel, you can spend your honeymoon as if in a fairy tale. Taşkonaklar as a physical structure; It has an impression suitable for the nature of Fairy Chimneys. Having a suitable appearance within the general line of Cappadocia and going out of the ordinary is only one of the most important and most striking features of the Taşkonaklar hotel from other hotels. While you are researching Cappadocia honeymoon hotels, you will see that Taşkonaklar honeymoon hotel is the ideal hotel for you. You can feel yourself in another dimension in Taşkonaklar Hotel, with its magnificent suites with a jacuzzi on the terrace and its interior decoration offering a visual feast, which honeymooners demand heavily, and you can be isolated from the whole world with your spouse.
The Most Beautiful Cappadocia Landscape
When choosing between Cappadocia honeymoon hotels, do not forget that you have the chance to see the unique view of Cappadocia. Take care to choose the hotel that promises you the most beautiful view of Cappadocia on your honeymoon. The most beautiful view of Cappadocia is, of course, seen from the terraces and gardens of the Taşkonaklar hotel. Taşkonaklar Cappadocia honeymoon hotel, which offers you the chance to watch the view of Cappadocia from a wonderful point due to its location, will make nice little touches to your honeymoon. You will be able to see the stars every night when you go to bed, and the view of Cappadocia every morning when you wake up.
You can start your holiday one step ahead by choosing your honeymoon hotel in the right location to spend your honeymoon happily and peacefully while stepping into a happy and peaceful marriage. Cappadocia is an extremely beautiful location for honeymoon hotels. With the concept of a small hotel with a garden, Taşkonaklar allows a honeymoon in Uçhisar, the highest point of Cappadocia, away from the noise of the city and just among the sounds of birds. Taşkonaklar, which looks like a part of nature and draws you into nature; it offers you silence, calmness, peace, pleasure, comfort and most importantly happiness.
Let us host you perfectly in the most suitable one among different room types in the Honeymoon Hotel with a fireplace in Taşkonaklar. If you wish, you can spend a simple honeymoon in the deluxe rooms, or you can enjoy the comfort and luxury by choosing one of the royal suites. Taşkonaklar has everything you need for a honeymoon hotel and offers it to you completely.
Taşkonaklar Cave Rooms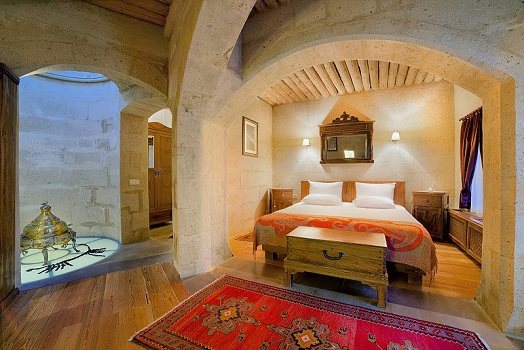 In addition to standard and suite rooms, Taşkonaklar also has cave rooms that offer a unique honeymoon experience. Cave rooms, one of the most curious rooms, have a texture suitable for Cappadocia culture. It is possible to feel the coolness provided by nature in these rooms, which have been restored and ready for use without damaging the texture!. For this reason, you can stay in cave rooms with a completely natural and fresh air without the need for air conditioning.
For all these reasons, it is not a surprise that Taşkonaklar is among the top choices for Cappadocia honeymoon hotels. With its magnificent view, delicious breakfast that prepares you for a pleasant day, lush gardens and private rooms, the services provided with a smiling face will increase your satisfaction to the maximum.
Honeymoon Packages
As a Cappadocia honeymoon hotel, we have honeymoon packages prepared with different programs so that you can enjoy your honeymoon in the most beautiful way. You can enjoy the view up to Mount Erciyes in the jacuzzis on our terraces of our suites, which are located against the Güvercinlik Valley, and you can enjoy yourself by the fireplaces in our rooms. You can enjoy our menu consisting of Turkish dishes in our restaurant, which has a view of Güvercinlik Valley and Erciyes Mountain. In addition, the most suitable places for taking photos are in Taşkonaklar to add color to your honeymoon!
Among Taşkonaklar honeymoon packages, you can spend your honeymoon in a hotel where you can meet all your wishes by choosing the most suitable package for your needs. Make your reservation by contacting us now, and you will not have to worry about knowing that you have chosen the honeymoon hotel as the best possible alternative among the wedding rush. Submit your needs and requests, and we'll give you an unforgettable honeymoon opportunity.