What goes through your mind as you embark on a journey you have never experienced before? Or how do you feel when you reach a place you have never been before?
Many people who are looking for a peaceful and good stay to spend their vacation will consider booking a popular hotel chain without a second thought knowing that the accommodation will meet their standards. But if you like to find hidden and unique hotels that exceed your expectations, isn't it worth considering booking a hotel with gardens and small luxury accommodation options?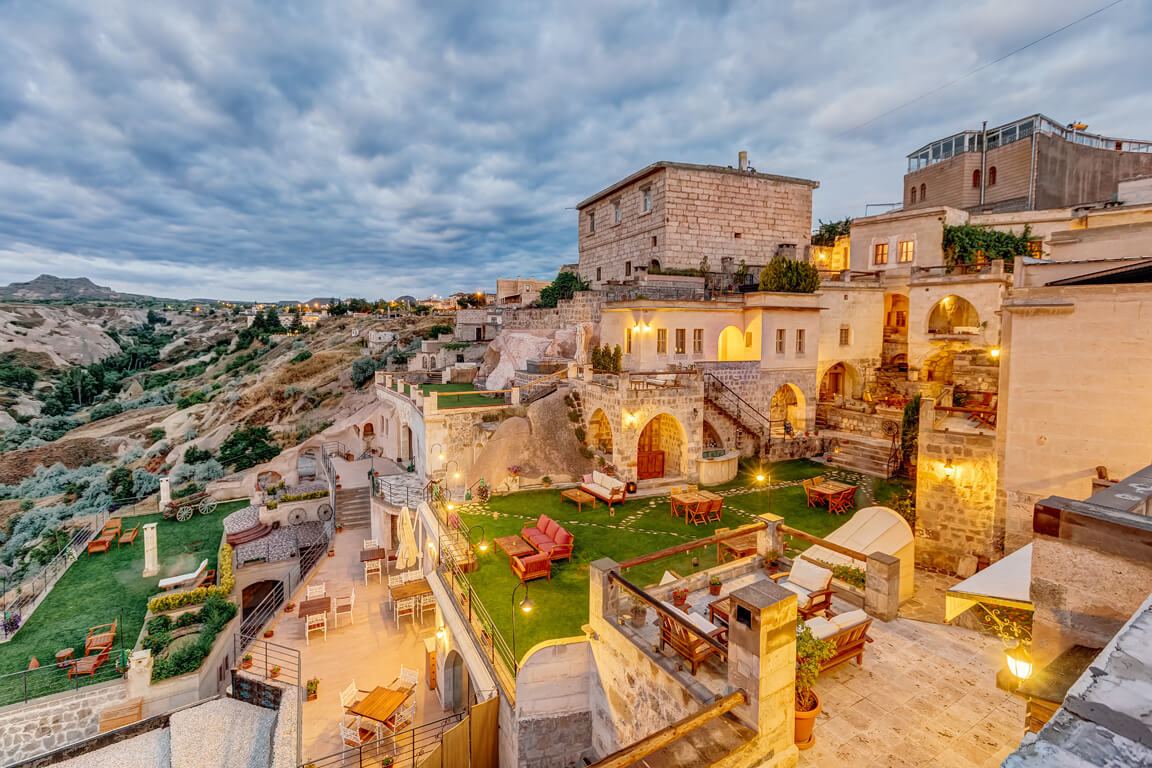 You will feel at home in Cappadocia
If there is a hotel in Cappadocia where you can witness a hotel experience that you have never experienced before, it is Taşkonaklar Hotel. Taşkonaklar, located in the most beautiful place of Uçhisar, in Cappadocia with a wonderful view, welcomes you like a sincere and sincere atmosphere in another world. Staying in this unique hotel, which stands out from the hustle and bustle of big and crowded chain hotels; instead of a chain hotel, it creates a feeling of being at home away from home.
Guests who want to experience the cave hotel experience anywhere in the world with such a view and space experience are on their way to an experience that befits the concept of a hotel. While there is a work of care and touch at every point of the hotel, the story of the moments to be experienced here will remain as a memory spanning many years, thanks to the different suite room options. Presenting the Cappadocia cave hotel experience with the most beautiful view of Cappadocia and room options with fireplace, Taşkonaklar invites those who have questions about accommodation to rest, adventure, history and luxury here!
Meeting Point of Culture, History and Nature
Cappadocia has hosted different civilizations as an unprecedented natural area in the world. The cultural climate shaped by the mystical appearance of the fairy chimneys and the natural structure of the region today; It has become one of the most important touristic centers of our country. Thanks to its different dynamism and structure suitable for many activities, Cappadocia is much more than a place where the most special moments can be experienced for visiting guests.
A Different Hotel Experience
Taşkonaklar, as a brand that brings the cave hotel concept to its guests with special touches, offers peace and comfort together with its room and suite options with a great selection. Deluxe Rooms, Junior Suites, Suite Rooms, Deluxe Terrace Room with Jacuzzi and Royal Suites with Jacuzzi, each of which has been carefully decorated in different ways… .
While staying in these rooms, which are prepared for you to experience the concept of comfort, luxury and a friendly hotel in the best way, you will not realize how time passes with different activities where you can feel the energy of Cappadocia, and you will be able to collect unique memories that you will remember for a lifetime when your holiday is over.
Great Room Options
What attracts you most about a small hotel with a garden? What is the biggest factor in choosing classic chain hotels for your holiday plan? Is it comfort? You know very well that the answers to these questions are not always easy.
Taşkonaklar brings you together with a hotel experience that is assertive enough to be a center of serenity and peace. While you will enjoy staying in rooms with wonderful features, from jacuzzi room options to different suite room options, you will open the doors of a completely different holiday experience with the unique Cappadocia nature and culture.
If you haven't planned your vacation yet, contact us! You can access the images and features of our rooms on our website, and contact us directly for detailed information.