As Taşkonaklar Hotel Cappadocia, Our Covid-19 Precautions
Dear Guest,
The days that we have been waiting for for a long time, when we will start traveling again, when we will welcome you in our pleasant hotel in our beautiful Cappadocia, without any worries, are approaching. We all deserve to have our holidays in peace of mind but sensibly.
We know that we all have different reservations and demands when traveling and choosing a place to stay. Starting from ourselves, we are working hard to host you in the most peaceful, comfortable and healthy way.
Before we go into the details of the additional measures we have taken, we wanted to tell you about our outstanding features that make Taşkonaklar special and that will enable you to have a pleasant holiday in this process;
A Healthy and Pleasant Holiday in Taşkonaklar Cappadocia
⁃ Free breakfast in your room (you can find our breakfast and kitchen hygiene details below)
⁃ You do not need to use any common indoor area, including the elevator, to reach your room. Our hotel consists of historical mansions and caves, located around 2 large and lush gardens, against the unique view of the Cappadocia Pigeon Valley. Therefore, the entrance to all our rooms is directly from the open air and is private to you.
⁃ Our 2 large gardens with their breathtaking views are waiting for you, providing a wide social distance to meet your longing for fresh air and plenty of sun during the days we stayed at home all this time.
– There is no common / central ventilation system throughout our hotel or in our rooms.
⁃ When you want to pamper yourself a little more, you can choose our suite with its own private terrace, or you can have all our delicious meals on your own terrace or in your room, with the meal arrangement we will prepare for you.
⁃ We have arranged our room service menu to cover our entire menu. Therefore, no matter how you want to spend your stay, we will not deprive you of our delicacies.
Our measures against Covid-19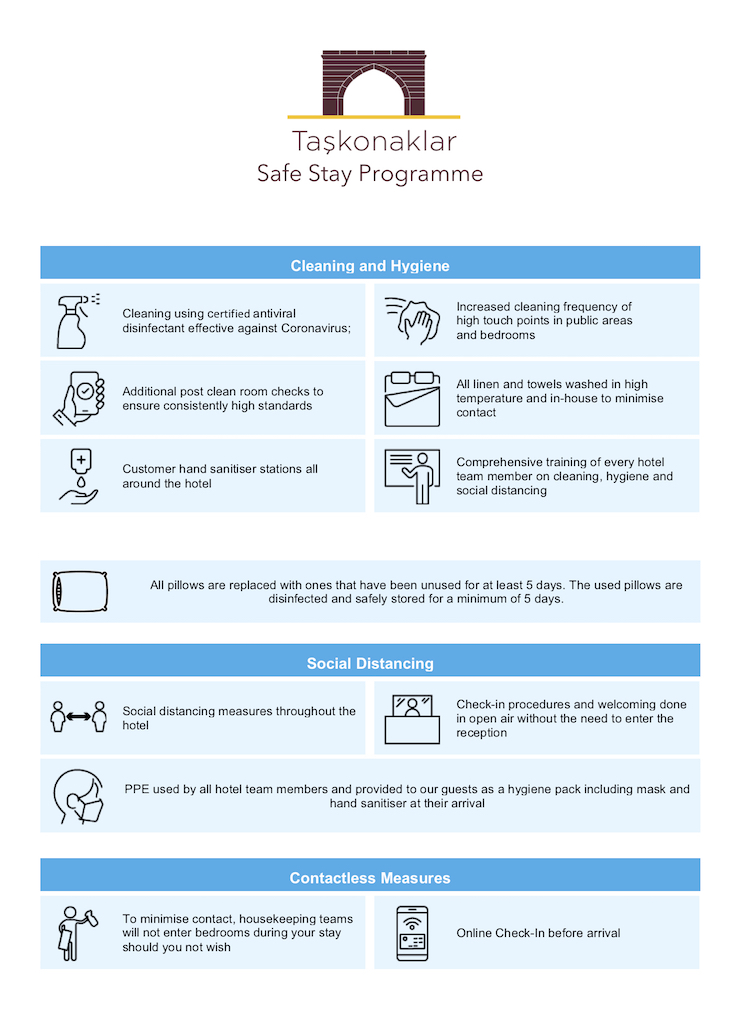 In addition to these, as Taşkonaklar, we have taken the following precautions for both your health and your pleasure. If you have any other questions or any action you want us to take, you can always contact us directly. Your ideas and requests are very valuable to us.
First of all, all masks, hand disinfectants, general area disinfectants and cleaning materials used in our hotel as cleaning and protective clothing are licensed as Biocidal products by the Ministry of Health. Moreover, we take our precautions in the light of all the recommendations and directions of the World Health Organization.
1- Health Checks:
During this difficult process, all of our employees who are resting at their homes (as Taşkonaklar, we have not fired anyone in this process) and who will start work, all health checks are carried out again before they start work.
2- Temperature Measurement:
The body temperatures of all our team members are measured and recorded 3 times a day on arrival, lunch break and after work.
3- Online Check-In:
Just like with airlines, we will now perform our check-in process online. Thus, when you arrive, you will be able to go to your room much faster and you will not have to enter the reception.
4- Your Room Key
It will be disinfected before you arrive and will be waiting for you at your room door when you arrive.
5- Hygiene Package
We will present each guest with a mini hygiene package consisting of cologne, mask and disposable wet wipes.
6- Your suitcases;
Our teammates, who will help you, will serve you by wearing disposable gloves and masks.
7- Details;
As Taşkonaklar, we have always been known as the cleanest hotel in the region since the day we opened and we have always worked meticulously to protect it. In the new process, we do not compromise on this, and we clean our rooms meticulously with additional precautions according to the procedure we have explained in detail at the end of this article.
8- Our Restaurant and Social Distance:
We have implemented the necessary social distance in our restaurant. You can enjoy your breakfast and other meals with peace of mind, both on the terrace of our restaurant and in our two gardens overlooking the lush and magnificent view of Cappadocia. With our garden small hotel concept, you can easily maintain your social distance.
Our tables and chairs are cleaned with disinfectant every morning in detail and after every use.
9- Meal Arrangement in Their Rooms for Our Guests
Especially for our guests staying in suite rooms, we can arrange the living area or their private terraces so that they can take their meals and serve all their meals to their rooms. So we can turn your worries into a romantic and delicious meal together.
10- Disinfectants
Hand disinfectants have been placed in all general areas of our hotel for your use.
11- Health Training for Our Teammates
Covid-19 hygiene training has been given to all of our team online by our contracted Occupational Safety company, reminder trainings are held regularly, and their compliance is directly checked by both the camera and our management team. For this purpose only, we will have a controller and trainer in our hotel.
Our Precautions in the Kitchen
12- Our kitchen team;
During the entrance to the hotel, they first disinfect themselves, then put on new disposable aprons, masks, gloves and face shields and start preparations to enter in that way and provide you with full service.
13- Ozone Device
The ozone device, scientifically proven to destroy the covid-19 virus, works in our kitchen during the service and preparation process.
14- Our Service Team
Our service team also provides service with gloves, masks and transparent visors and delivers all your orders to you without any contact.
OUR CLEANING PROCEDURE
Our experienced and reliable cleaning team, who has been with us for years, works with masks and uses separate disposable gloves and cleaning cloths for each room.
Our rooms are cleaned with Eczacıbaşı Professional's TSE, Ministry of Health and World Health Organization approved Eczacıbaşı Professional Maratem brand cleaning and disinfectant products.
High contact surfaces (such as table surfaces, lighting switches, remotes, kettles) are thoroughly cleaned and disinfected.
Bed linen and linens are washed and dried in our hotel's own machines. After check-out, all our rooms are ventilated first, then disinfected against all kinds of bacteria and Covid-19 virus with the ozone device, the effectiveness of which has been proven by scientific studies.
In addition to all these measures, we will continue to take the necessary regulations by constantly following all kinds of new developments and official announcements.
We are waiting for you in Taşkonaklar to enjoy your holiday in a healthy and hygienic hotel in Cappadocia.
Taskonaklar Family